Josh and I celebrated our 6th Anniversary this past weekend. I can't believe how fast the time has gone by. I love him more and more each year that goes by. I feel so blessed to have such a great husband who loves me for who I am and completes me. He is such a good dad and he helps me out so much. Thanks honey for all you do! I love you.
For our anniversary we started out our day by running a 10K together. We haven't ran a race together for a few years. As we started out, we were running together. I thought he must be being nice to me since it was our anniversary. But I just had the urge to go faster. Soon I was 20 feet then 50 feet ahead. I was wondering if he was saving up his energy so that he could kick my butt in the end. Or if I should hold back and run with him. But I just wanted to do the best I could so I kept going. Not only did I finish the race but I ran the whole time. And not only did I run the whole time but I ran it in 58 minutes!!! That is faster than a 10 minute mile! I am so pumped! I ended up beating Josh by a minute and a half. This is the first time that I have ever beat him running. Sorry honey but it feels really good.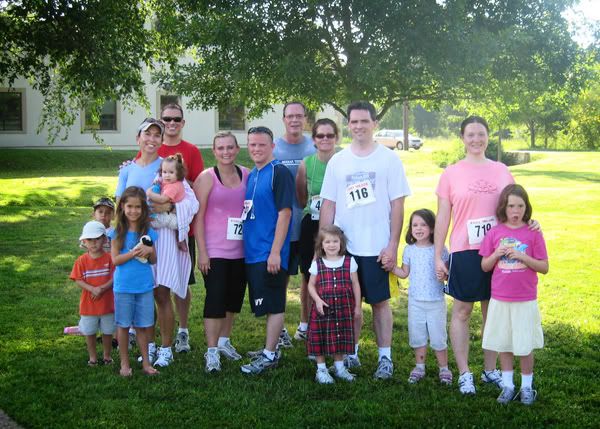 Fellow ward members and friends that ran the race also.


After the race we took the kids to six flags to the water park. It felt so good because it has been super hot here lately. Then we went to dinner at Pei Wei. It was our first time there and it was really good. We will definitely go back. We also went to the movies and saw The Proposal. Awesome! It was hilariously funny and such a good date movie. Josh loved it too.